Hey girls,

As always, I'm going to start the entry with an apology for not being around much. Ah well, I've already accepted the title of 'Worst LJ friend', might as well live up to it! :-) We had to submit our project report in college, and so for the past week or so, I've been running around the whole day trying to get it finished, formatted, printed and hard bound. It's almost done, so I should get some free time next week.

I came home just in time for the game yesterday. I'm extremely delighted that we're in the final, but at the same time, I have never felt more heartbroken. I was in tears at the end of the game. I still can't believe the referee's decision. Poor, poor Darren, that has got to be the cruelest thing that can happen to anybody. I can still see his face in front of my eyes when the ref showed the red card. So full of resignation. He must be absolutely devastated. God, I can't even begin to imagine how terrible he must be feeling. How can UEFA allow the referee to get away with it? This is absolutely insane, every f***ing person on the planet with eyes can see that he got the ball. Their rules are completely stupid. 'an appeal can be made only in case of mistaken identity', what the hell! That is the most retarded logic I've ever heard. You're allowed to appeal a red card if a player breaks someone's leg(as we regularly see in the Premier League), but you're not allowed to appeal in case of a legitimate challenge? So it means that we allow the referee's mistake to completely destroy what is supposed to be every player's dream, playing in the Champions League Final, what kind of justice is that?

The worst part is that it had to happen to the one player who's done so much for this team. I know that most of the time I'm completely biased when it comes to Darren Fletcher, sometimes to the point of stupidity, but I don't think anyone can deny that he's been one of our star performers this season. No one has worked harder for the team. He's given his absolute everything every single time, and he should have been rewarded for his effort by playing his part in the biggest game of the season. Instead, he has to miss out because of one stupid, blind, idiotic referee. Oh god, I feel like crying again over the injustice of it. *wipes eyes*

I'm sorry, I know I'm overreacting. I'm sure this has happened to loads of players over the years, and they've coped with it. I'm the worst kind of supporter there is, to be so cut up over one red card instead of being happy that my team is in the final. I can't help it, I care for him so much. I just hope that Scholesy, Gaz, Ry and the rest of the team are consoling him. I wish I could go there and hug him tight, he must be so heartbroken. Darren, sweetheart, I'll be praying as hard I can that someone, somewhere has some sense and does something about this miscarriage of justice. Please, dear god, let UEFA revoke this red card, some way or the other. I don't know if I could bear watching the final and see him sitting in the stands. I know he will still be there, still supporting the team and still cheering for them, because he's that kind of selfless person, but it would absolutely break my heart.

Sorry for spoling the mood, but I needed to get it off my chest. My parents couldn't understand why I've been so down the whole day, but I know you girls will understand. This doesn't mean that I'm any less happy over the victory, or any less proud of the rest of the boys, I am terribly proud of them. I just wish that my Fletch could have been spared this heartache.

I hope all of you are doing well. Maybe you haven't yet kicked me off your friends list. I would not blame you if you did, hell, I would have kicked myself off my friends list. So sorry, I've just been absolutely swamped with project work and no time to eat, let alone come online. I know it's not an excuse for being so lousy, but maybe you guys can understand how difficult it is. I can't wait to be done with my graduation.

Current Mood:

sad
Starting with my little darling, Louise Carrick with Lisa. She's so very squishy and small! Love her!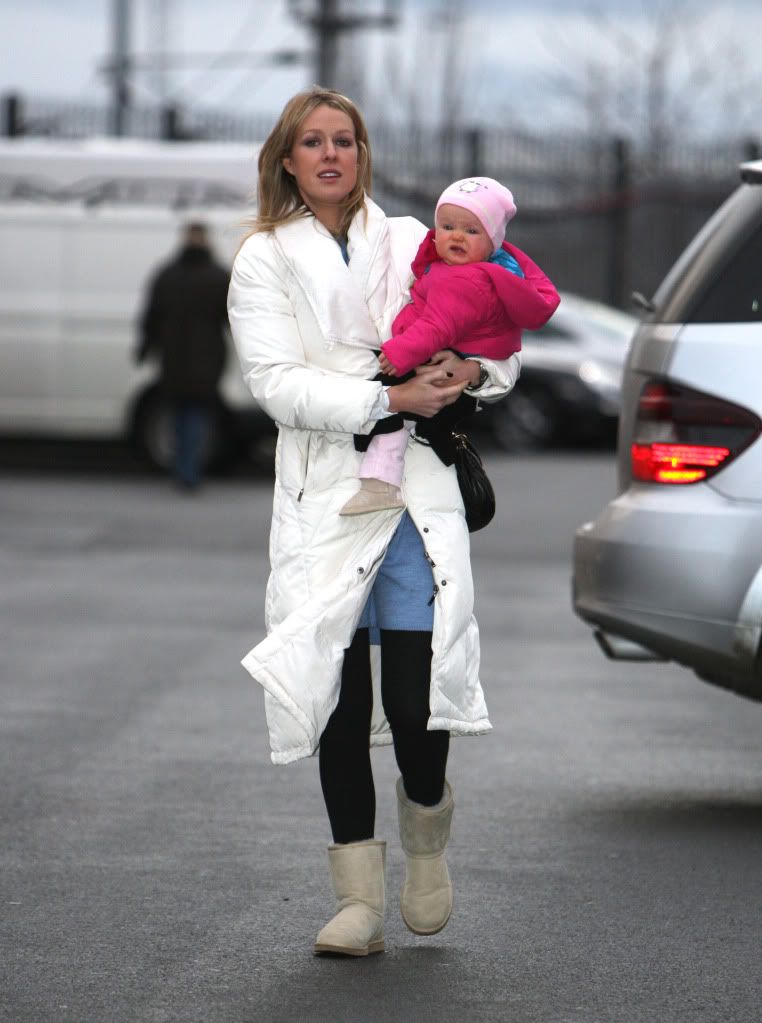 (
Warning : Looking at these pics for too long may cause you to turn into mush
Collapse
)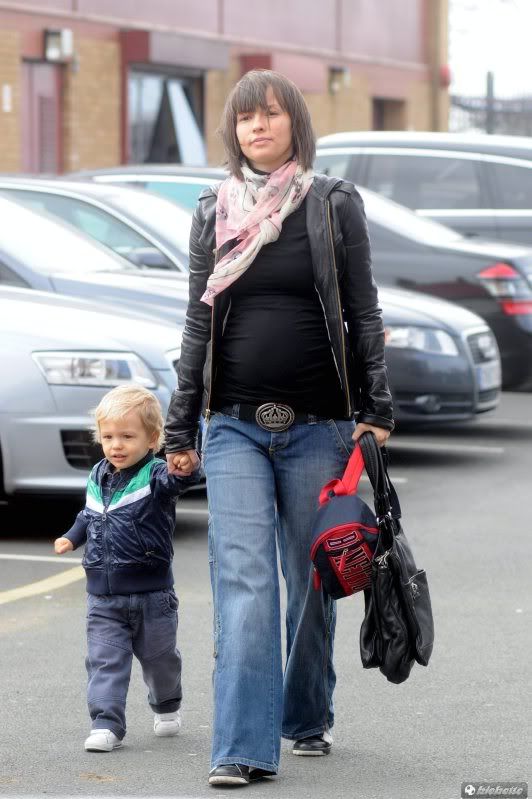 Hmm, and to think there is another one on the way! Ana looks radiant, the baby must be due soon. I can't wait, he/she will be just as adorable!
No signs of little Molly Neville yet, either. It's just too bad that our last game is away this season too. We'll miss out on the bubba parade.
All pics from Kickette, or credited to the wonderful ladies on Kickette.
Hey girls. We were having a United Kiddies picspam on Kickette, and I thought I'd share with you guys too. And I was in a mood for baby pics.
Current Location:

home

Current Mood:

loved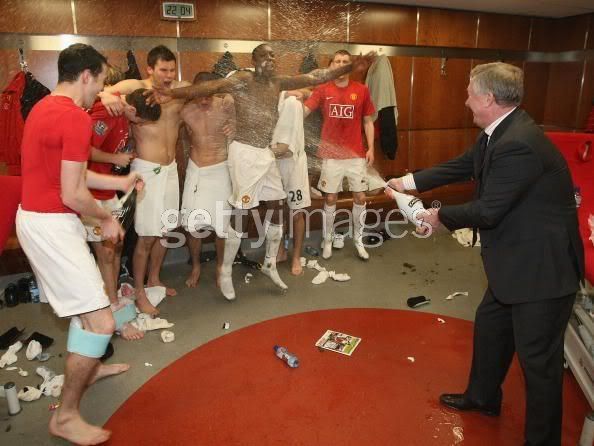 This pic made me smile, but overall I feel so damn worried. I was afraid to open the websites today and find out the actual count of our walking wounded. And it is as bad as I feared. Here's what I've found out:
Anderson - Had to be stretchered off, going for an x-ray, Fergie's really worried. If it's serious, could miss the rest of the season.
Rafael - Hamstring, out for 3-4 weeks.
Jonny Evans - Old ankle injury, out for a week at least.
Nani-Looked in loads of pain as he went off, they're keeping quiet on him.
Gaz and Giggsy - Couple of knocks.
And this is in addition to those that are already missing:
Roo and Evra - Not back till Feb
Rio and Wes - Maybe fit for the Everton game
Owen - out for the rest of the season.
Which means that the only fit defenders we have are Vida and O'Shea. Fucking hell!
Please, somebody just wrap Vida in a glass bubble for the next few weeks. At this rate, he may have to handle the whole defense all by himself.
*takes deep breath* Okay, we can cope. We have some good youngsters. Fabio must get a game now. And Chester got some playing time too. There's always Cathcart, we can recall him from loan, can't we? And Simmo too, of course. Fletch can do a job at RB, Gaz can fill in at CB. But please, no more injuries! We've had enough for the whole season, I reckon.
The game yesterday was pretty exciting. Loved the first half. Second half, the injuries messed us up. Poor Jonny, he shouldn't have continued on that twisted ankle. Good to see Nani and Ando doing well. Schorching goal by Nani. I love what O'Shea said in the interview afterwards "We all know what Nani is capable of when he concentrates" LOL!! He needs to start concentrating a lot more, methinks. Too bad Bambi didn't get a start, looked adorable sitting on the bench. And my baby Rodrigo, SAF had some nice words for him afterwards, said he would have come on if the injuries hadn't happened.
At the end of the day, I guess the important thing is WE'RE GOING TO WEMBLEY!! Even if it might be in an ambulance. :P
I've been a lousy LJ friend, I'm so sorry for not checking in often. I will try to be more regular. Hope all of you are doing well. *hugs*
But I feel so ashamed too. Oh Giggsy, please forgive me!!! When I saw the lineup, I couldn't believe that Sir Alex had left Michael out, picking Giggsy instead. Giggsy and Fletch against Ballack, Lampard, Deco, Joe Cole and Mikel. I honestly thought we would be horribly outrun, it would be a massacre. I was praying for a draw. But Giggsy proved me oh so wrong. He was brilliant, absolutely breathtakingly brilliant. He made Chelsea's midfield look terribly ordinary. Like Sir Alex said afterwards, they couldn't live with him. I've never been happier to be proved completely wrong. Well done, Ry! You're just a genius. Special mention to Fletch who worked his socks off and proved why he's such a big-game player.
My favorite part of the whole game(apart from the game itself) was the disallowed goal before half-time. That was just so ingenius! They really worked on it and pulled it off to perfection. Damn the linesman for being so shortsighted. Such genius deserved to pay off. And it's perfectly legal too. Aww, that would have been such an awesome goal. And poor Cris - that one and the one later which was wrongly flagged offside, he should have had them both. He played much better in the second half yesterday than he has whole season! Thoroughly deserved one goal at least. On a side note, how sick are Chelsea supporters to be singing "You should have died in that tunnel " ? To wish death on someone, that has to be the worst thing anyone can do, I don't care if it is meant in the name of rivalry or anywhere else.
Special praise to my sweetheart Jonny Evans. Darling, you made me proud! Everyone was going on about how Drogba would outmuscle him but Jonny didn't allow Drogba to even have a sniff. Of course, a huge part was down to Vida too, who was as brilliant as ever.
And Patrice Evra, the god among left-backs! How good is it to have him back? According to some forums, after the game in an interview with a French channel, he said "I dedicate this victory to the English FA!" *laughs* Oh, I love you so much, Pat!!!
I've found loads of pics and gif's courtesy of Redcafe, here: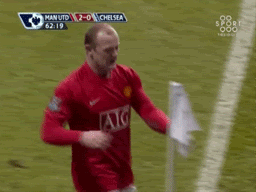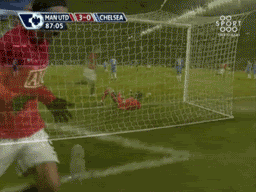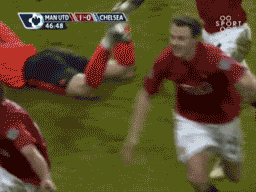 (
30 + pics :)
Collapse
)
If we win our next two games, we'll go top of the table before the Merseyside Derby. I can hardly wait! It's been too damn long since we stamped our authority on that table. Come on boys, now please don't slip up against Wigan and Bolton!
EDIT: A huge huge congratulation to Gary and Emma on the birth of baby Molly! Aww, I'm so happy for them!! What a wonderful weekend for Gaz.
Oh boy, what can I say! Yesterday was the most brilliant game of the season. I'm so so proud of my boys, so very proud. They were brilliant, each and every one of them. This was the perfect response to Benitez' stupid press conference. Take that Rafa! Go make another list about why we're going to be champions come May. Sir Alex Ferguson, not Mr. Ferguson, mind you, gave the perfect response when he said that Rafa must be very 'angry and disturbed'. He was so full of pity, it made me laugh.
Current Location:

home

Current Mood:

bouncy
Rafa Benitez, thank you so much for brightening up a very quiet day!! I don't think I've laughed so much in ages. Can you believe he actually got out a list to read from? LOL !!!!




(
Full Transcript
Collapse
)



Okay, now this could be a genius move, or it could spectacularly backfire. I'm just enjoying everyone's reaction on RAWK and Redcafe.

I must say that I agree it is very Kevin Keegenish. Hope it has the same result! :)
Current Location:

home

Current Mood:

amused
I never thought I'd say this, but we were completely gash last night. Totally rubbish. Honest, I've never seen us play so bad. It was like we had no interest in winning or for that matter, even scoring a single goal. Urgh, I can't believe I got out of my warm cozy bed at 1:30 am to watch this.There was not even a single player who put in a half-decent performance, except maybe Jonny Evans. Tells you something when a 19 yr old defender is the only player worth watching. I just hope it was because they are saving themselves for Sunday. Now you better play out of your skins against Chelsea, otherwise there is no other excuse for being so rubbish.

*sighs* sorry, I think the lack of sleep is making me irritated, it has been a very long day. Ok, maybe things aren't quite so bad. After all, it's a pretty meaningless game, and if we are going to be awful in one game every season, I'd much rather prefer it to be in the Carling Cup. Besides, they do have to come to Old Trafford, and I'm pretty sure we'll win that one comfortably to take the semi-final. But it was still disappointing to watch. I think he got the whole team selection wrong. Scholesy and Anderson should not have played together in midfield, I don't think it was a game that suited them. I would have preferred to have Michael or Fletch in there to provide a little bit of defensive strength. Darron Gibson is pretty awful on the right wing, if he has to play, keep him in the center of midfield. And Tevez just does not convince me any more, maybe the whole contract issue is messing with his head. Also, I think the constant changing of the team is doing no one any favour. Never thought I'd say this, but Fergie, please stop rotating! At least in midfield. We've got no fluency because the players are not settled in any one position.Ah well, it's not done us that much harm. We're still in the competition, we just have to work that bit harder.

My parents would have a fit if they realised that I was up half the night yesterday. They can't understand how important it is to me. In fact, none of my friends can understand either. I told them today that United had lost, and all of them were like "Oh, is that even possible? Don't they win every game?" Yeah right, we're some invincible team that just has to turn up to win. *rolls eyes* I don't know why it made me so mad, I mean, they don't have a clue because they've probably never watched a game of football in their life. But they seemed to be insinuating that the only reason I follow United is because they win everytime. I felt like screaming out at them that when I started watching United, they hadn't won anything of note for years. ( Maybe I've proven to be lucky for them! :) ) I read a question on one of the forums, asking whether you'd prefer to watch a big game like Real Madrid vs Barcelona or United vs Derby, and my answer is United vs. Derby everytime. Even if we are as gash as we were last night. Even if it's a friendly. Hell, even if it's a choice between watching United play a school team and the World Cup Final, I'd still go for the United game.

Sorry for dumping this on here, I'm feeling very irritated today. And unfortunately, I have no one else to yell at. Hope all of you had a better day.


Current Location:

home

Current Mood:

irritated
Hey all.

Yesterday was probably one of the worst days of my life. My cat died yesterday. It was really horrible. I think she ate a poisoned rat. That's what the vet said anyways. I don't think I'll ever forget how she looked. The poor thing threw up a couple of times, but we thought she had just eaten too much or something. Then later on, I saw her lying completely still with her eyes open. My heart stopped, cause she looked dead at that moment itself. But she kept having these horrible spasms in between.

The worst part was that there was nobody at home but me and my sister. We rushed her to the vet's clinic immediately, but it was lunchtime so there was nobody there. We asked around and managed to locate the vet's house. On reaching there, he was eating his lunch and told us to wait for a couple of minutes. By the time he came out and went to his clinic, it was too late.

I was completely numb on the way home. It was all I could do to stop the tears, cause I was driving and didn't want to cause an accident. I did break down when I got home. But then, I felt very guilty too. So many human beings are dying all over the world everyday. I didn't cry when I saw the death and destruction caused by the terror attacks in Mumbai last month. Those were real people with families, and friends and children. Of course, I felt horrible, but it didn't hit me that much because no one I knew was affected. And yet, here I am crying over a cat. Goes to show how terribly selfish we can be.

Sorry for dumping all this on here, I just felt like I had to speak about it.

Onto a slightly brighter topic, I was glad we had a game last night to take my mind off it. I was really exhausted though, and it took a lot of effort to get out of bed to watch it. Sometimes, I really detest late kick offs. But it was an ok game. Nice to see Dimi score, it was a really cool finish. And loved his celebration. Take that, the idiots who complain he's not passionate enough. There was enough passion there to light a fire. Great to get the 3 points. Bring on Chelsea now, I guess.


Current Location:

home

Current Mood:

melancholy
Hey girls! I finally finished my exams last week, and the rest of the week was spent celebrating and shopping. And also, a bit of research on the internet. As in, finding the most adorable and/or drool-worthy pics of our boys. I'm pleased to announced that I was pretty successful.

So, here's part one of my research - the lovely, curly haired, doe-eyed, Welsh Wizard, Mr. Ryan Giggs :
(
Click Click
Collapse
)
The game against Gamba Osaka was really entertaining, although it got a bit silly towards the end. Poor Vida, I hope his injury is not too bad. One thing which worried me is that our defense seemed to fall apart after he went off. He's been magnificent this season, an absolute rock. In fact, dare I say it, he's almost a better player than Rio now. Poor Rio has been very inconsistent, maybe his back is troubling him quite a lot.

Apart from the minor defensive collapse, everything one else looked ok. Giggsy had a good game, so did Ando. It was nice to have Scholesy back. Carlos worked hard, and for once, it paid off. Cris did not throw a tantrum. Nani did not hit that many shots into row z....okay, I've become very cynical. No honestly, it was good. Roo looked awesome when he came on. Fletch did well too.

Boo, I'll probably miss the game on Sunday. I'm going for a holiday with my family, and we'll be back next weekend. There's a wedding to attend too. So, if I don't come back in time, I want to wish all of you a very Merry Christmas. I hope you have a great time with your loved ones. See you after the holidays. *hugs*


EDIT: We drew Inter!! Oh damn, we were just a whisker away from Real Madrid. I so wanted to draw them and beat them!!! Well, Liverpool will have to do it, I guess. And then we can beat them. According to the rule, we should win the CL if we do that!

Looking forward to seeing Jose again!

Current Location:

home

Current Mood:

amused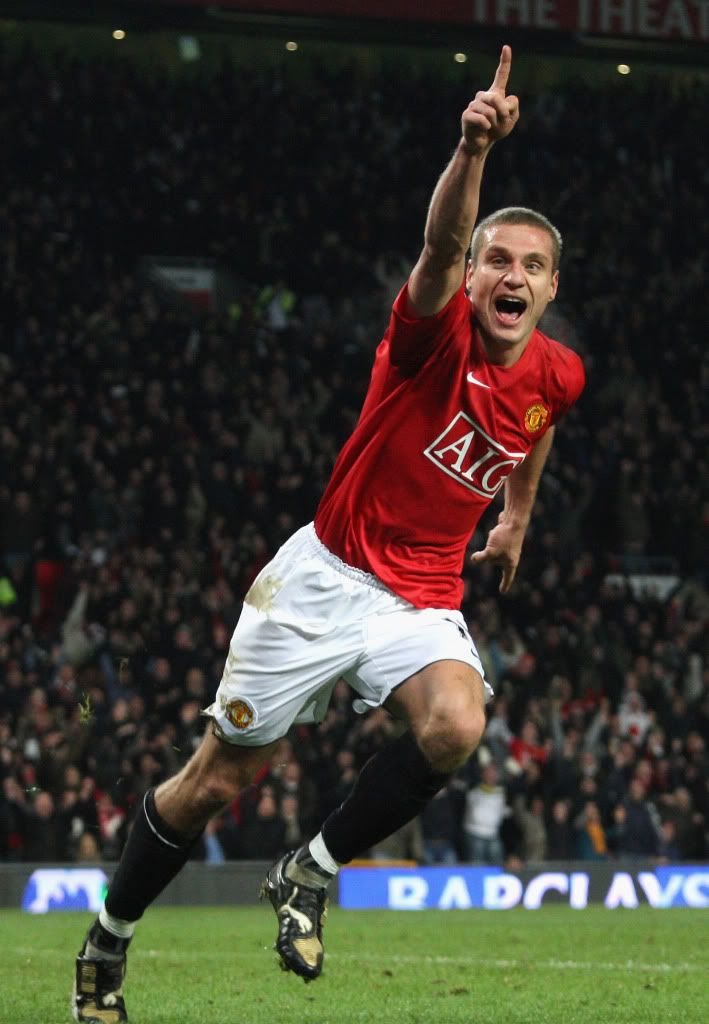 Nemanja Who-ah!!!
Nemanja Who-ah!!
He comes from Serbia!
He'll fu*king murder ya!!


I want to sing that over and over again!! My baby! I love you so much today! Thank you, thank you for hitting that ball in to the net. Dear god, my heart is still beating wildly. I swear, if we hadn't won that game, I would have stopped believing in justice. I've never seen a more one-sided game in my whole life. We had 85% possession, for crying out loud! I don't think Sunderland ever crossed the half way line, except maybe towards the end.

Damn, that was insane!!! Whoosh, what a relief to finally get 3 points. It meant so much to the boys, they were all hugging and jumping around towards the end! Mikey was Motm and in his interview with Setanta, you could hear the boys singing Vida's song in the background! It was so adorable!! Aww, I love them all!!




(

More pics...Collapse

)



It's really late and I should go to bed, but I can's sit still. My heart is thumping so hard. I hate games like this! But then, they are the best too, cause you feel so good after it has ended! So very proud of everyone, well done for not giving up and going hard right till the end!

I'll post more coherantly later, just going to bask in the feeling right now! (Yes, it's only Sunderland, but I don't care! We nearly dropped two vital points, I'm just glad to get them)

EDIT: Added some pics!!!
Current Location:

home

Current Mood:

ecstatic
Sorry for disappearing once again! Stupid exams, I can't wait for them to get over. I have a bit of a break now so I decided catch up with all your posts. But first I thought I'd share these with you all. My favorite part of every year, the annual hospital visit. I love seeing our boys with those adorable kids!

And this pic should tell you exactly why. Now lets all go 'AWWWW' together! Ole with the little girl's headband! It's so pink! And with a butterfly on top! How many other footballers would be willing to be photographed like that? Probably none. I love this man so much!!!
(
Click Click
Collapse
)
I watched the game on Wednesday, it was terrific! Yay for Carlos, glad to see him scoring again. Ando did well too, and so good to see Scholesy back! Little Rafa impresses me with every game. Gaz not so much. To be fair, he was playing out of position. I was really glad to see Roddy too. His post match interview with Carlos was so cute. Carlos still cannot speak English, so Roddy was translating for him. I don't know whether they were talking in Portuguese or Spanish, but it sounded great! And he can speak Italian too, and English. So multilingual! I'm very impressed. :)

I can't wait for tomorrow's game, I hope it will be fun. Sad about Keano, but it's much better that he didn't leave after losing against us. Okay, I'm off to catch up on what I missed.
Current Location:

home

Current Mood:

excited